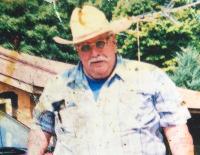 Lewis "Cowboy" Randall
LEWIS "COWBOY" RANDALL
Lewis "Cowboy" Randall, 76, passed away on March 17, 2017 at Thompson Hospital.
He attended school in Canandaigua, and served with the U.S. Navy from 1958 to 1964. He retired from General Motors. Lewis was a member of the Navy Club. Lewis loved rodeo and was a lifetime pass holder at the Attica rodeo. He enjoyed writing short stories and poetry with a western theme.
Survivors include his grandchildren Deanna (Lee), David, Cassie, Autumn, Emily and Daniel; sons Lewis and William (Nikki) Randall and a sister Ellen. He was preceded in death by his son David,daughter Annmarie and sister Kathleen.
A Memorial Service will be held at Fuller Funeral Home, 190 Buffalo St., Canandaigua, on Saturday at one o'clock.