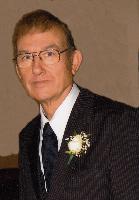 Charles Quire
Charles "Chuck" Quire
March 12, 1933 - April 3, 2017
Charles "Chuck" Junior Quire, age 84, died Monday, April 3, 2017 at his North Carolina home.
Born in Prestonsburg, Kentucky on March 12, 1933, he was the son of the late Leslie and Daisy Mae Osborne Quire.
He retired from Fasco as a manager after 43 years. Chuck was a professional bowler, an avid horse racing fan, and a lover of all animals. He also enjoyed playing guitar and listening to music. He will especially be remembered for his endless joke telling.
Chuck is survived by his wife of 60 years, Ann Caruso Quire; two daughters,Patti Hunnicutt and husband Barry, and Susan Atkins; sister, Donna Quire; sister-in-law, Jo Caruso; four grandchildren; five great grandchildren; two nieces and two nephews.
The family will receive friends on Saturday, April 22, from 10-12 pm followed by a funeral service at Fuller Funeral Home, Inc. 190 Buffalo St. Canandaigua. Burial will be in Calvary Cemetery.