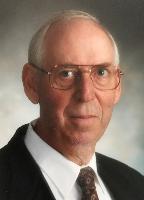 Donald Ens
G. Donald "Don" Ens
Stanley- Don Ens passed away Sunday May 7, 2017 at F.F. Thompson Hospital.
Don retired from Xerox Corporation after 28 years of service.
He was predeceased by his parents, David and Sarah Ens and three brothers.
Don is survived by his wife, Cherie; daughter, Liz (Frank) Caruso; two grandchildren, Cutter and Dalton; brother, John (Louise) Ens and several nieces and nephews.
Don had 3 loves in his life. God, his family, and his metal shop From an early age, Don had an affinity for building things. Among his accomplishments, a full size tractor, a pumpkin chunking trebuchet and a significant hand in the addition to his church. Don found decades of happiness playing in his metal shop. In later years, he found joy working with his Grandsons and his neighbors' children in the shop.
Loved for his kindness, his sense of humor, and his willingness to help anyone who needed it, he will be missed. In his own words, we have a "lifetime of memories," and we will celebrate every one.
Friends may call Friday, May 12, from 2-4 pm and 6-8 pm at Fuller Funeral Home, Inc. 190 Buffalo St. Canandaigua. A 10 am funeral service will be held Saturday, May 13, at the Lutheran Church of the Good Shepherd, 320 S. Pearl St. Canandaigua. Burial will be in Woodlawn Cemetery.
A memorial donation in Don's name may be made to the American Heart Association or the American Kidney Foundation.
To share a memory or express condolences online please visit www.fullerfh.com