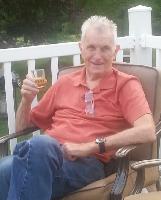 Lewis M. Drake
Lewis M. Drake
The sun has set for Lewis M. Drake on May 15, 2017.
Lewis was born in Avoca, NY and lived the majority of his life in Naples, NY. Lew retired from the USPS in 2000, but his life's work can be seen in various carpentry projects throughout the Finger Lakes. In his spare time, Lew could be found reading westerns, completing crosswords, or baking his famous pies!
Lewis was the loving husband of his "Tootie", Norma Drake. Together "Lewie" & Norma have spent the last 61 years teaching us all the value of unconditional love and the true meaning of family. Lewis will be deeply missed by his family including his children, Lewis H. Drake, Vicky (Scott) Hayes, and Melody (Howard) Johnson, his grandchildren Joshua Hayes, Janelle (Matthew) Gaudu, Alexsandra Hayes, Joseph Johnson, and Nora Johnson, as well as his 5 great-grandchildren Avery, Lillian & Michaela Hayes and Aria & Robert Gaudu. Given his affinity for nicknames, you may know the above better as "Bub", "Vic & Scottie", "Peanut & Repeat", "Magoo", "Bo & Edgar", "Teddy", "Yogi", "Panda", "Penguin", "The Twinkies", "Princess Summer-fall-winter-spring", and "Rusty".
Lewis was predeceased by his parents, Millard & Velma Drake as well his brother, Erwin Drake, and twin brother, Loris Drake. He is survived by his sister, Beverly Porter as well as several nieces, nephews, and close friends.
Friends and family are welcome to join us in a celebration of Lew's life. Calling hours will be held at Fuller Funeral Home – 190 Buffalo St Canandaigua on Sunday May 21st from 2-4pm and 6-8pm. A 1pm funeral service will be held on Monday May 22nd at the funeral home followed by a graveside service at Woodlawn cemetery.
In lieu of flowers, the family asks that you consider a donation to one of the following organizations: Arc of Monroe (arcmonroe.org), Habitat for Humanity (habitat.org), or the National Alliance for Direct Support Professionals (NADSP.org).