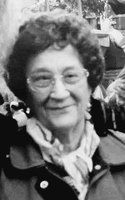 Oretta Valvano
Canandaigua- Oretta Valvano passed away peacefully in her sleep on September 11, 2017 in Canandaigua, NY.
Oretta was born in Florence, Italy. She was married to Frank Valvano and they had only one son, Paul.
When Oretta came to the United States, she became a seamstress for Shenkmen's clothing store on Main St. in Canandaigua. In her free time, she enjoyed gardening, planting flowers and spending time with her friends.
Oretta is survived by her grandchildren, Lisa (Michael) Mccutcheon, Michelle (Martin) Burton and Amy Valvano. She is also survived by her great-grandchildren, Madison and Michael McCutcheon, Michael Valvano, Jessica Valvano, Domenic Minnecia Jr., Andrew and Taylor Burton, Alayna, Anthony, and Joseph Burton, Tyler McNerney, and her great-great grandson, Frank Marcan.
Family and Friends are invited to a 10am funeral Mass on Tuesday, September 19, at St. Mary's Church, 95 N. Main St. Canandaigua. Interment will be in Calvary Cemetery.
In lieu of flowers, a donation may be sent to St. Benedict's Parish c/o St. Mary's Church.