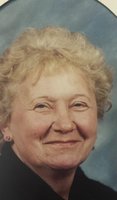 Grace M. Muller
Grace B. Muller (Briganti), beloved mother and aunt passed away at home Tuesday, September 26, 2017 after an extended illness.
Grace was predeceased by her husband Stephen and is survived by daughters Diane (Daniel) Bennett and Eileen; grandchildren Christopher (Carly), Michael, and Kelsey; and several nieces and nephews.
Grace was the daughter of Dominic and Rose Briganti. Her sister Mary Potts and loving nephew Steven Potts predeceased her.
She attended St. Mary's School and Southside High School in Elmira, New York. Grace worked as a phone operator and chief operator for Bell Telephone in Elmira, New York. She was an active member of St. Dominic's Church in Shortsville: leading the Rosary Makers, volunteering for events, and preparing food for various occasions. Grace was a breeder/owner of thoroughbred race horses and well known at the Finger Lakes Racetrack for being an excellent cook. She enjoyed her dogs and cats and will be missed by her constant dog companion Precious.
Friends will be received Sunday, October 1, from 2-4 pm at Fuller Funeral Home, Inc. 190 Buffalo St. Canandaigua. A 4pm memorial service will follow at the funeral home.
In lieu of flowers, donations may be made in Grace's name to Ontario-Yates Hospice or Colony Caregivers.
To share a memory or express condolences please visit www.fullerfh.com
The family is very thankful for the wonderful care Grace received and the support provided to them by Ontario-Yates Hospice. Thank you Nurse Pete! We are sure Rita, Grace's caregiver, was sent from heaven. We thank her for loving and caring for our Mother.