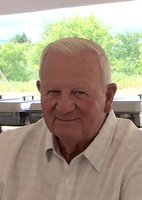 John H. Chrisman
John H. Chrisman
Honeoye- John Chrisman, at the age of 78, passed away peacefully December 17, 2017 with his family by his side.
John is survived by his loving wife of 56 years, Becky; sons, John (Lauren), Gerald (Jean); granddaughter, Heather; brothers, Robert (Noreen), David (Sharon); and sister, Marie Burnett.
He served with the US Army from 1959 to 1965 and was a proud member of the Canandaigua City Fire Department and a life member of the Cheshire Volunteer Fire Department.
A celebration of John's life will be held at the Cheshire Volunteer Fire Department on Friday, December 22, from 4pm to 7pm. Interment will be at the convenience of the family.
In lieu of flowers, donations in John's made to be made to Ontario County Humane Society.
To share a memory or express condolences please visit www.fullerfh.com