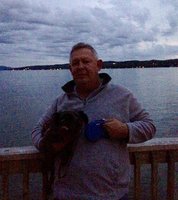 John T. Squires
John (Jack) Squires, 56, of Canandaigua, passed peacefully Sunday morning, December 17, 2017, at FF Thompson Hospital after fighting for his health for nearly two months.
John was a devoted husband and loving father. He is survived by his wife of 28 years (but have been together for 36 years), Cheryl (Walsh) Squires and two adult children John Jr., and Justin and his best buddy, Spike, his Brussels-Griffon. He is also survived by his Mother, Ruth Myers and her husband William, of Farmington, NY; Jack was the only boy and had seven sisters. His sisters Mary-Jane Myer, Terry Myer, and Rhonda Amon, all live in Lexington, South Carolina. His Sisters Lillian (Nina) Salsman, Susan Newkirk and her husband Donnie, and Lorraine Winters and her husband Steve in Saugerties, NY. His youngest sister Charlotte (Lottie) Zoeckler and her husband Dennis living in Cumming, Georgia. Jack is also survived by his Uncle Bruce Meiswinkle, who was like a father to Jack, and his wife Ann who also reside in Saugerties, New York. Jack's also survived by his brother in-laws Thomas Walsh and his wife Betty, James Walsh and his wife Lynn, Margaret Outhouse, Mary Vanepps, Nancy Allen and her husband Malcolm Allen, Elizabeth Rider and her husband Paul, Patrick Walsh and his wife Roz, Edward Walsh and his wife Cathy, Karen La Mouria and her husband Mike.
Jack has an enormous extended family filled with nieces, nephews, cousins, aunts, and uncles that he loved dearly, including his god-daughter Stephanie Myer.
Jack will be embraced in the next life by his Father, Richard Squires, his father in-law Thomas Walsh, his Mother in-law Eleanor Walsh, his brother in-laws Frank Salsman, Donald (Butch) Myer, Peter Vanepps, Eric Outhouse, his nephew Jeremy Salsman, and so many others that he loved and who are no longer with us.
We invite everyone who knew and loved Jack to join us on Friday, December 22nd from 7-9pm to pay their respects and say their farewell's at Fuller Funeral Home, Inc. 190 Buffalo Street in Canandaigua.
We will be providing flowers in accordance to our family's wishes. We ask that instead of flowers you make a donation to his help his widow manage this difficult time and difficulties in the near future. All donations can be made out to...
Cheryl Squires
202 North Main Street #3
Canandaigua, N.Y. 14424
Or through his gofundme.com campaign located on his family members Facebook pages. We look forward to having you all join us to celebrate the life of such a kind, loving, and humorous man.