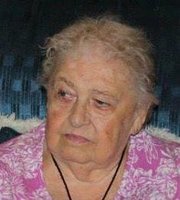 Florence M. Little
Florence 'Flossie' M (Doane) Little
(April 27, 1934 – December 16, 2017)
Flossie was born on April 27, 1934 in the Village of Ovid to the late Hartley H and Janett E (Doty) Doane. After a short illness she unexpectedly passed in her sleep on Dec 16, 2017 at FF Thompson hospital in Canandaigua, NY. She joins her husband of 42 years, Thomas R Little Sr and her oldest daughter, Jennette H (Little) Woodard. In addition to her husband and daughter, Flossie is predeceased by two brothers, Hartley H Doane Jr and Claude R Doane, her sister, Bertha L (Doane) Hoover Goyette and her Grandson James R Fish.
Flossie is survived by her 3 children, Thomas R Little Jr and his wife Sheryl, of Fayetteville, NC, Timothy R Little and his wife Corrine, of Republic, KS, Tina M VanDerveer and her husband George, of Canandaigua, NY, Jennette's surviving Husband John A Woodard Sr, of Ithaca, NY. As well as her sister's children that Flossie and Tom raised, Louis Goyette and his wife Carol of Florida, Ileane Nordby and her husband Arthur of Groton, NY and Diane Walker of Freeville, NY. Flossie leaves behind a total of 14 grandchildren, 36 great grandchildren and 5 great great grandchildren. Tom and Flossie met on April 25, 1951 in Dryden, NY and on May 6, 1951 he drove her to her Father's home in Ovid, NY to ask for permission to marry her. With her father's blessing they stopped at the Trumansburg Methodist church and asked the minister to marry them. They settled in Dryden, NY and they happily welcomed their son Tom Jr 1 year and 3 weeks later, 2 weeks shy of Tom Jrs 1st birthday they welcomed their daughter Jenny, 3 days shy of Jenny's 1st birthday Tim was born. After almost 11 years they were surprised with the arrival of their daughter Tina. Two years later Flossie's sister passed away and they added 3 more children to their family, Louis, Ileane and Diane.
Flossie lived in the Dryden area until 2004 when she had a stroke and was admitted to the Loretto Rehabilitation and Nursing Home in Syracuse, NY. In 2010, Flossie was able to transition to Clark Manor House for Assisted Living in Canandaigua, NY, where she was closer to her daughter Tina. Eventually Flossie was able to move into Tina and George's home where she was able to resume most of the activities she loved. She enjoyed visiting the festivals in the area and spending time with family. Her daily enjoyment was watching the antics of Tina's feline children.
Flossie will be greatly missed by her extensive family and numerous friends.
There will be no calling hours or funeral as Flossie did not want either. In lieu of flowers, please make donations to your favorite charity in Flossie's memory. There will be a graveside service on May 6, 2018 at the Frear Memorial Park in Ithaca, NY. Arrangements are under the care Fuller Funeral Home Inc. Canandaigua, NY.