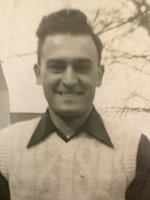 Louis Cascini
Louis Cascini
Canandaigua - Louis Cascini (age 87) passed away on January 16, 2018 at FF Thompson Hospital after a brief fight with cancer.
Lou was born in Fairport, NY and was the youngest in a family of 8 children. He volunteered during the Korean War with the Navy Air Corp. He was a mason by trade and left behind many beautiful structures that will be enjoyed for years to come.
Lou is survived by his children, Christopher (Sherry) Cascini, John Cascini and Celeste (Craig) Andrews; along with many grandchildren, great grandchildren; sister Mary (Frank) Marinelli and many close friends.
There will be no calling hours. Interment will be at St. Rose Cemetery, Shortsville NY, in the spring.