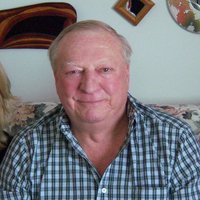 Lawrence A. Schott
Lawrence A. Schott
Canandaigua -Jan. 16, 2018 at the age of 74, passed away suddenly.
Survived by his wife Kathy, son John (Lin), daughter Sandy Sweeting, brother Dick (Gail), step-daughters Carolyn (Bill), Maureen (Mark) and Ellen; grandchildren Matthew (Liz), Kelly (Nick), Erica, Justine, Jordyn, Madison, Morgan, Casey, Bradford, Matthew, and Kendall and great-grandchildren Savannah, Brooklyn, Harlee, Silas and Stella.
He is predeceased by his first wife Betty Schoenweitz Schott and daughter Laurie Schott Patterson.
Larry worked for Kodak as a shift foreman for the film dark rooms. He worked for Kodak for over 30 years but was a farmer at heart, where he worked as a young man on his family's farm. He raised three children and took care of his wife Betty who succumbed to MS at an early age.
Larry met Kathy in 1991 and they were married in 1992. They enjoyed the relaxed life of Canandaigua with family and friends. They spent many happy summers boating and swimming. They celebrated their 25th wedding anniversary in March of 2017. Larry was a good cook and master of recipes. He was mechanically inclined and could fix any household item. He was a creative inventor and will be known as the guy who could find 101 ways to reuse any item.
He was a generous caregiver, a loving husband and a special grand-papa to his many grandchildren and great-grandchildren. We will miss Larry and always love him.
A memorial service will be held privately for the family.
In lieu of flowers, donations can be made to the American Cancer Society or National Multiple Sclerosis Society.
The family would like to thank the staff at FF Thompson Hospital for the care that Larry received. We especially appreciate Nicki (the ICU nurse) for her compassionate care during his final days.