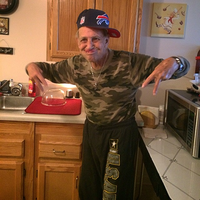 Paul R. Donadio
Paul R Donadio 1931 - 2018
Farmington- Paul Donadio passed away January 22, 2018 at his home.
Survived by his loving wife of 25 years, Patricia Donadio; daughter, Angelina Donadio; two sons, Paul Jr. of North Carolina and John Donadio of California; daughter, Susan Sheldrick of Long Island; and many grandchildren; nieces and nephews whom he adored.
Paul was predeceased by his mother and father, Gaetano and Evelyn Donadio; brother, Arthur and daughters, Thersa Motta and Lynn Motta.
Paul was a decorated Korean War Veteran who was proud of the country he served. He retired in 2008 from The New York State Thruway after 17 years of service. He was known by many as "Tex" because of the cowboy hat he wore. He also owned two Amoco gas stations in Fort Lauderdale, Florida before he came back to New York with his wife and daughter.
Paul was a person who could put a smile on any face at any time. He loved life and his family. He wished he could have had more time with his grandchildren but travel was getting too hard for him.
Paul passed away peacefully at home holding his wife's and daughter's hand. He battled two bouts of cancer and successfully beat one. He tried so hard to #Kickcancersbutt.
Paul will be missed by many. A special thank you to Barb Vandemortel, his nurse, from the Canandaigua VA palliative care program and Ontario-Yates Hospice for all their love and support. Thank you also to Victor Health (Dr. Kevin Penird and Melanie Wilson) who cared for Paul for many, many, years until it became too hard for him to get out.
Friends may call Friday, January 26, from 5-7 pm at Fuller Funeral Home, Inc. 190 Buffalo St. Canandaigua. A 7 pm funeral service will follow at the funeral home. Burial will be in Woodlawn Cemetery, Canandaigua.
Donations may be made to: Ontario Yates Hospice or St. Mary's School in Canandaigua.
To share a memory or express condolences please visit www.fullerfh.com