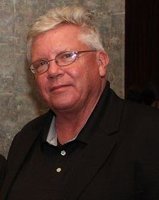 Robert John Vanas Jr.
Robert J. Vanas Jr. of Farmington, NY passed away suddenly on
January 26, 2018. He was born on April 7th, 1949 in Rochester NY. He is
survived by his loving wife of 24 years Carly Vanas; his daughters Jenna Vanas
and Michelle (Vanas) Adams and her husband Joel Adams; his step-son Eric
Furhmann and his wife Lyndsay Furhmann; his two grandchildren Austin and Olivia
Furhmann; his sister Jackie Vanas; his niece Megan Cucci and her husband Pete
Cucci; his nephews Bryan Vanas and his wife Rocelle Vanas, Jason Vanas and his
wife Annet Vanas; and his brother-in-law Day Stephens and his wife Marlene
Stephens. He was predeceased by his parents Robert and Marilou Vanas and his
step-son Ian Fuhrmann.
Rob was a loving husband, father, "papa", brother, uncle and friend. He was a talented drummer in his earlier years and later could still drum a beat when called upon to do so. Rob proudly received his B.A. in Economics from Syracuse University which served as a foundation for his investment management services company, Starboard Asset Management, based in Canandaigua, NY. He had a good sense of humor and was quick to crack a witty joke. Rob was a caring animal lover and enjoyed his many cherished pets. He spent much of his life and was happiest in The 1000 Islands near Alexandria Bay, NY. He loved to share his time at "The River" with family and friends golfing, boating, swimming and relaxing. Rob was a avid fan of multiple sports and watched regularly in his spare time. Most of all, he adored spending time with his family and friends. Rob will be deeply missed by those who knew and loved him.
A memorial and burial service will be held at a later day at the family's request. Those wishing to send condolences or share memories with the family may do so at www.fullerfh.com. Memorial contributions may be made in Mr. Vanas' name to Happiness House, 5415 North
Bloomfield Rd., Canandaigua, NY 14424 or Thousand Islands Bridge Authority /
Boldt Castle, PO Box 428, Collins Landing, Alexandria Bay, NY 13607.
To share a memory or express condolence on line please visit fullerfh.com