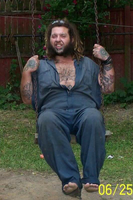 Ryan N. Farnsworth
Ryan N. Farnsworth (Scooter O'Reilly)
Shortsville- Ryan Farnsworth passed away peacefully on February 2, 2018.
Born on October 7, 1976 in Rochester, NY, Ryan was predeceased by his father, Ron Helms; and step father, Darryle Fowler, as well as his maternal grandmother.
Ryan is survived by his mother, Gail Fowler; his wife, Patty Farnsworth; two amazing boys, Ryan and Logan; his brothers, Shawn and Ronnie; his sisters, Nikki and Megan; his O.P.C. family, and the hundreds of people he befriended in his many years of travelling.
Friends may call Thursday, February 8, from 5-7 pm at Fuller Funeral Home, Inc. 190 Buffalo St. Canandaigua. A 7 pm memorial service will follow at the funeral home.
To share a memory or express condolences online please visit www.fullerfh.com