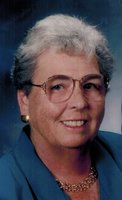 Marjorie M. Horton
Marjorie M. Horton
Victor- Marge Horton, 94, passed away March 30, 2018 at F.F. Thompson Hospital.
Marge was born on Staten Island, NY in 1923. She graduated from St. Lawrence University and received her Master's Degree from the University of Rochester. She taught special education at School #25 and Frederick Douglass Middle School for the Rochester City School District.
She and her husband, Ken, loved being by the water and sailed their boat, the Carousel, on Lake Ontario for several years. They loved to host family gatherings at their home on Lake Ontario.
Marge and Ken eventually retired to Ft. Pierce Florida and spent many happy years golfing and enjoying life in the Sunshine State.
Marge will be remembered for her loving generosity to family and friends. She was happiest when surrounded by all of her family.
Services will be private, Marjorie will be interred in Ft. Pierce, Fl. Arrangements are under the care of Fuller Funeral Home, Inc. Canandaigua.
Gifts in Marge's memory can be sent to ARC of Ontario County, ATTN Friends of Ontario Arc Foundation, 3071 County Complex Drive, Canandaigua, NY 14424 or by visiting ontarioarc.org and clicking the donate button.
To share a memory or express condolences online please visit www.fullerfh.com