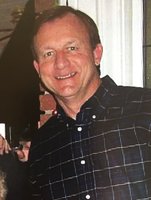 Terence E. Ward
Terence Earl Ward
7/7/1953-3/30/2018
Terry passed unexpectedly on March 30, 2018 at Geneva General Hospital.
Survived by his wife and soulmate Lisa M. Ward and family:
Martin Ward (fiancé, Tiffany Toukately), Randall Ward, Colleen Ward, Jamie Sitterley, Abby Sitterley (fiancé, Anthony Sulli)
Brothers, Thomas (Marilyn) Ward, Robert (Renee') Ward and sisters, Madonna Lee (Jack) Seely and MaryBeth(Thomas) East.
Predeceased by his son, Andrew "Drew" Ward, and his parents, Leon T. Ward and Madonna Ward.
Terry was loved by multiple nieces and nephews and friends to numerous to count.
He was previous owner of Ward Supply Company for over 40 years and was currently employed by WinSupply of Canandaigua.
Friends may visit family at his home in Geneva, Thursday, April 5 from 4-8pm.
Mass will be at St. Mary's Church, 95 North Main St. Canandaigua on Friday, April 6 at 2pm.
In lieu of flowers, gifts can be made in memory of Terry to support scholarships for students in MCC's HVAC program. Send to the Monroe Community College Foundation, 1057 East Henrietta Road, Rochester, NY 14603 or make a gift online at www.monroecc.edu/givetomcc