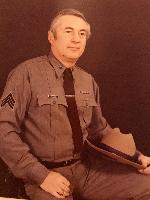 Robert J. Kerr
Robert J. Kerr
Canandaigua- Passed away in his home on Wednesday, June 7, 2017 at the age of 89.
Predeceased by his parents, David and Harriet Johnson Kerr and his son James David Kerr.
Survived by his wife of 44 years, Mary Ellen Kerr; His sister, Yvonne (Hugh) Belton; His children, Michael (Sally) Kerr, Alan Kerr, Tammy (John) Dixon, Deanne Stratton; grandchildren, Emily (Jim) Wishart, Heather (Terry) Rooze, Bradley, Rebecca, Rachel, Johnathan, Sarah, Jessica; great grandchildren, Alyssa, Alex; great, great grandchildren, Levi, Braelyn; nephews, nieces, David, Scott, Brian and Diane.
Born in London, Ontario Canada, December 11, 1927. He enjoyed playing rugby high school and at the age of 17 moved to Saskatchewan and worked at the Indian Trading Post. He served in the United States Air Force from 1951-1952 with an Honorable Discharge. He became a United States citizen on November 11, 1954. He worked for the Newark Police Department for two years then joined the New York State Police in 1957 and retired with the rank of Sergeant in 1976. He then became a Security Specialist for Bausch & Lomb and retired in 1996. Bob and his wife moved to Florida where he opened his Private Investigators business. He was a Guardian ad Litem and a Guardian for adults. He always followed his passion for upholding and enforcing the law. His faith was important to him and he was proud of all his children and grandchildren. He was admired and cherished by his family and friends and will be greatly missed.
Family will receive friends from 4-6pm on Tuesday, June 13, 2017 at Zion Fellowship, 5188 Bristol St., Canandaigua where a Memorial Service will be held following the calling hours at 6:30 pm.
To share a memory or express condolences please visit www.fullerfh.com