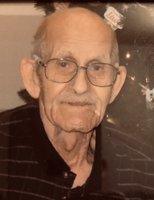 John C. Dear
John C. Dear
Clifton Springs- John Dear, 84, passed away February 25, 2019 at Clifton Springs Hospital after a lengthy illness.
John proudly served his country in the United States Airforce
A loving husband, father, grandfather and friend, John is survived by his wife of 65 years, Dorothy, one brother, Joe Dear; sister in-law, Marie Wagner; brother in-law, Clyde (Bonnie) Dewey; daughters, Donna (Dennis) Purschwitz, Diane (Dan Phillips); one special granddaughter, Danielle; several nieces and nephews.
Special thanks to Don and Chris Dear, Rich and Deb Callon, Judi Wagner and longtime friends of the family Pat Locus and son, John.
John Enjoyed fishing, NASCAR, drag racing and roads trips with his wife to visit family members.
John was a lifetime member of Walker Fire Exempts. He retired from Monroe County Airport. After retiring he worked part-time for Townline Machine delivering parts.
Friends may call Saturday, March 2, from 2-4pm at Fuller Funeral Home, Inc. 190 Buffalo St. Canandaigua. A 4 pm funeral service will follow at the funeral home.
In lieu of flowers, contributions may be made to: Clifton Springs Hospital Nursing Home, 2 Coulter Road
Clifton Springs, NY 14432.