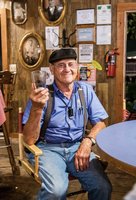 John H. Brahm III
JOHN H. BRAHM III
Naples/South Bristol: John H. Brahm III, of Hawks Road, passed unexpectedly at home on Saturday, March 2. He is survived by his wife of 55 years Katharine (Hawks) Brahm, two daughters Tina M. (Blane) Dickey and Sherry (John) Brahm-French, four grandchildren John Blane, Austin Kyle, Luke Alan and Moriah Katharine Dickey, two brothers Tom (Kathy) Brahm and Paul (Sandee) Brahm, sister-in-law Cindy Brahm, and many nieces and nephews. He was preceded in death by his infant daughter, Katharine, his brother Roger Brahm, and his parents, Doris & John (Jack) Brahm, Jr.
John graduated from Cornell University with degrees in pomology and business. After 23 years with Widmer Winery, John and Katie started Arbor Hill Grapery and Winery in 1987. The business has grown to include their popular restaurant "Brew and Brats at Arbor Hill" along with a successful line of over 55 gourmet food products and more than 25 award winning wines. John, along with his brother Tom, founded Randall-Standish Vineyards in the early 1970s. He was a Rotarian with 48 years of perfect attendance and proud of being a lifelong Eagle Scout. A charter member of the Canandaigua Lake Wine Trail, a founding member and a long time board member of the Finger Lakes Visitors Connection, and a board member of Ontario County Industrial Development Association for many years. An original founder of the Cornell University Shaulis Fund which presents scholarships to viticulture students. Also an active member of several local organizations including the South Bristol Historical Society.
Friends may call Friday from 2:00 to 4:00 and 7:00 to 9:00 pm at Fuller Funeral Home, 190 Buffalo St., Canandaigua. On Saturday March 9th there will be a service with Pastor Mark Spaid of the Bristol Springs Free Church officiating. The service will begin at 1 pm, and as John planned, a celebration of life will immediately follow, and likely conclude at 6 pm. Both the service and the celebration will be at Parish Hill Barn located at 5325 State Route 245, Naples, NY 14512. Burial at Woodlawn Cemetery will be done privately at a later date. It has been suggested by the family that memorials be directed to the Naples NY Rotary – PO Box 173, Naples NY 14512, Hospeace House – PO Box 343, Naples NY 14512, or the South Bristol Historical Society – 6500 Gannett Hill Road West, Naples, NY 14512.