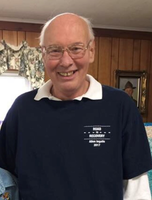 Allen Lester Ingalls
Allen L. Ingalls
Bloomfield- Allen Ingalls, 66, passed away peacefully March 5, 2019 with family by his side.
He is survived by his wife, Darlene (Rayburn) Ingalls; and many family and friends.
In keeping with Allen's wishes services will be private. Arrangements are under the care of Fuller Funeral Home, Inc. Canandaigua.
A contribution in Allen's memory may be made to: F.F. Thompson Health c/o 3 West or ICU, 350 Parrish St. Canandaigua, NY 14424.
To share a memory or express condolences online please visit www.fullerfh.com